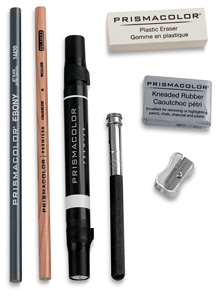 You can get it on Amazon Here
With this, it adds finishing touches to art so you can get something like this :
PITBULL word art drawing
I will start off by talking about the
pencil colorless blender. All the brown and white pit bulls had it used on them. Next on the list is the
marker colorless blender. There is a
tri-color pit bull that had it on and makes the black transition into orange better. The pencil lengthener is quite useful on my cylinder shaped pencils. Then there is the pencil sharpener which is very good at making sharp points as shown below:
The ebony drawing pencil is good for sketching but doesn't last that long as this drawing was sketched
Husky laying down
Then there is the plastic eraser. This is how good it's at, at erasing hard and soft marks.
The soft mark is under the
tri-color pit bull. Lastly is the
kneaded eraser. It's good at picking up colored pencil, pen ink and marker other then graphite pencil. As for graphite pencil it can make a hard B2 pencil mark look like a light H4 pencil mark.
Over all I give this a 4 out of 5 stars as the
ebony drawing pencil gets eaten up by a sharpener quicker then I had hoped it would have